TEACH4HK
Fellow Sponsorship
In January 2016, the Fitzroy Philanthropic Fund formed a partnership with
Teach4HK
, a nonprofit organization founded in 2013 with a mission to enlist outstanding university students to serve in schools with underprivileged students. The FPF made a financial commitment to support the monthly stipend and program management costs of two fellows for the 2016-17 academic year for Teach4HK. For the 2017-2018 academic year, the commitment was increased to support four fellows.
Volunteer Program: English Rockers
In addition to direct financial donations, we aim to invest some of our time to try to inspire the next generation in our communities.
English Rockers
is a program built in collaboration with Teach4HK, where groups of secondary school students, selected by the Fellows at Teach4HK, regularly visit the Rockhampton office to spend time with team members to practice their English, experience cultural exchange and capture a glimpse of the commercial world.
At the end of the academic year, the students and fellows who have joined the program gather for a celebration event, which includes team games and presentations by the students to parents, teachers and Rockhampton staff (
photos
). Students have shared their feedback on the sessions and the impact it has had on them in this
presentation
and
video
.
TEACH UNLIMITED FOUNDATION
Program Mentor Sponsorship
In July 2016, the Fitzroy Philanthropic Fund made a commitment to support
Teach Unlimited Foundation (TUF)
, a nonprofit organization founded in 2011. TUF's mission is to serve socially disadvantaged students by recruiting and training university graduates as Program Mentors and placing them in Partner Schools for two years, full-time, to provide mentorship and education support. The FPF has made a financial contribution towards TUF's mentorship program for the academic year 2016-2017. The funding will be used to support the monthly compensation for Program Mentors as well as their training and development, and the program management costs.
Volunteer Program: English Explorer – Door to the World
In conjunction with TUF, the
FPF
created the
English Explorers
team building project, which involves a focused group of secondary school students from a TUF partner school meeting regularly with Rockhampton staff and working closely to explore a new country and culture together. Through their research and discussion students not only practice their English, but also widen their horizons and build their self-confidence and leadership skills (
photos
).
The goal of the project is to construct an app-based quiz game from their discoveries, and present this quiz back to the wider communities in their schools (
video
).
KIDS' DOOR
Tutorial Sponsorship
Since 2017, the FPF has collaborated with
Kids' Door
, a non-profit organization dedicated to supporting children in Japan who suffer from limited access to educational opportunity due to social barriers, such as family breakdown and poverty. The FPF is funding the administration costs of a dedicated weekend tutorial program, called Ganba-Rockers, for senior high school students from disadvantaged backgrounds. The first program took place between May 2017 to March 2018 and ran for 4 hours each weekend during the academic year. 21 students received dedicated support from this program. An overview of the results of the program can be found
here
. The program has been renewed for 2018-2019.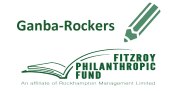 SANTA ROCKERS
Santa Rockers: Christmas Donation Drive
During the year-end holiday season, the FPF organizes the Santa Rockers program. Rockhampton staff members are encouraged to participate in the festive season by sharing their good fortune with those less fortunate through a 'Christmas Donation Drive'. Items including new and good condition toys, clothes, books and household essentials are collected and donated to
Crossroads Foundation
, that works with registered NGOs globally to coordinate the redistribution of the goods to individuals in need (
photos
).